The Trolley Ride
---
G
rowing up in the Bronx during the early 1940's was definitely awonderful and adventurous time. My loving parents would often caution me as I left our apartment to meet my pals, "Do not hitch onto those trolley cars!" Now, I ask you, what Bronx street kid of those days would seriously heed that advice?
So, one Friday afternoon, with our weekend ahead planned for fun and games, we four teenage shtarkers headed south on Kingsbridge Road for a walking cruise of the Fordham area. We decided to conserve some of our limited spending money and found the waiting trolley car just too compelling! It was "all for one, one for all" as we fastened ourselves onto the trolley's rear lips and edges, giving new meaning to the word "precarious".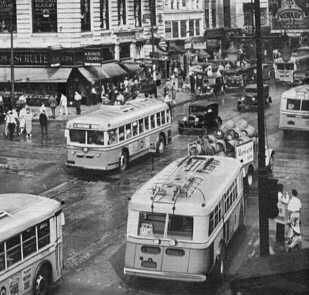 We were immediately "ratted out" by the passengers just as the yellow trolley began to clank and rumble ahead. The motorman abruptly clanked to a sudden stop, forcing us to jump off. My pal Heshie (Henry) was holding onto an uncovered metal door hinge, and with it's opening action, the tip of two of his fingers were sliced off! Talk about your bloody mess, we all wrapped his hand up with a couple of our tee shirts.
The long hours we spent that night at Fordham Hospital, along with Heshie's 38 stitches, were mild treatment compared to the cruel and "deserved" punishment we each received during the following days.
Moral: Don't be a ka-nacker, and just listen to your parents!
Shtarkers is Yiddish for "tough guys" and ka-nacker for "wise guys".