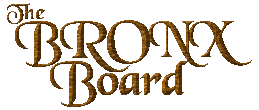 For displaced, misplaced, and nostalgic ex-Bronxites
---
The page you're attempting to access is not available at this site.
---
If you were trying to find a message, then it's possible that it's been archived, in which case you may want to try searching the archives.
It's also possible that the message you're trying to find has been removed because it was inappropriate for the board. If that was the reason, it is no longer available at this site.
---
|| Back to The Bronx Board ||